Cole Aesthetics Clinic has gained various Awards in the field of Aesthetics Sector in United Kingdom.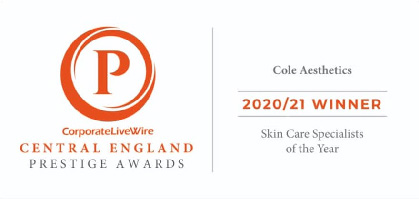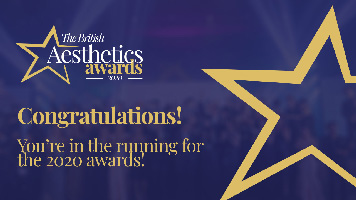 Anti-Wrinkle Treatment
This treatments are a highly effective treatment which are most commonly used for the upper areas of the face.
DERMAL FILLER TREATMENT
Dermal fillers take the form of gel like substance made from hyaluronic acid, a naturally occurring substance that is found in our skin.
Skin Boosters & Hydrators
These are injected into the upper dermal layer of the skin to promote collagen and elastin production, making your own skin do the work and regenerate itself.
MESOTHERAPY TREATMENT
Mesotherapy is an intradermal or subcutaneous injectable treatment when a cocktail of vitamins, amino acids and enzymes is injected into the skin to give it the boost it needs.
CHEMICAL PEELS
They can help with reducing pigmentation, acne scars, fine lines and wrinkles and generally with improving skin texture.
ADVANCED THREADS
Advanced Thread treatment doesn't just restore volume lost in the face due to ageing it's a treatment that's suitable across the whole body Offer fantastic results very fast.
HYDRO FACIAL
For the ultimate non-laser resurfacing & hydra-dermabrasion skin transformation results.

MICRO-NEEDLING
THis treatments stimulate the body's own collagen production to reduce the appearance of a range of skin conditions
LEMON BOTTLE FAT DISSOLVING
Lamon Bottle Fat-dissolving Treatments are a form of mesotherapy and are designed to remove stubborn localised pockets of fat.
LASER HAIR REMOVAL
We can treat all skin types safely and offer free consultations and patch tests to our clients which provides you as the individual with your own bespoke, tailored treatment plan.
SKIN TIGHTENING FACIAL
HIFU stands for High Intensity Focussed Ultrasound, and creates similar results to a face lift, but without any invasive procedures! It lifts the tightens the skin
Laser Skin Rejuvenation
Look no further! Our carbon laser peel and honeycomb fractional laser skin resurfacing treatments are the ultimate game-changers in the world of skincare.
Gouri PCL Filler
the ultimate solution for achieving smooth, youthful-looking skin. Developed with advanced technology and backed by scientific research Gouri PCL filler offer remarkable results that will leave you feeling confident.
Tixel2 Skin Resurfacing
Tixel2 Skin Resurfacing is a non-laser, non-ablative treatment that uses thermomechanical ablation (TMA) technology to improve the appearance of the skin.
Medical Weight Loss Program
Introducing the life-changing medical weight loss program! Are you ready to transform your life and achieve your weight loss goals with ease?
Laser Tattoo Removal
Laser tattoo removal should always be performed by trained professionals who understand the nuances of the procedure.
Skin Boosters & Hydrators: The Foundations of Luminous Skin The journey to radiant, healthy skin is a quest that many…
Read More
80 reviews on
Angela Pearson
21. October, 2023.
Fantastic service and results. Steven puts you at ease and I actually enjoy my treatments! Highly recommend.
sharon kaur
19. October, 2023.
I recently had the pleasure of visiting this aesthetics clinic and I must say it exceeded my expections in every possible way. The premises were impeccably clean and well maintained. Steven made me feel so relaxed and comfortable as I was so nervous. Steven's insightful guidance and attention to detail left me feeling reassured that I was in hands of a true professional, he took the time to patiently and tailored the treatment accordingly ensuring that I received personalised care. I definitely recommend this aesthetics clinic to anyone seeking exceptional care and outstanding results. I can confidently say that I am a 100% satisfied customer.
Faye Bland
16. September, 2023.
Steven put me at ease straight away he is so lovely. I was nervous about having Botox for the first time and he talked me through the process and gave me all the information about it. I'm super happy with my results and would 100% recommend Cole's aesthetics.
Makeup By rani
14. September, 2023.
It's really good I can see the difference I will recommend to my friends and family
Kim Davis
2. September, 2023.
Very impressive. Personal, professional, friendly and informative, Stephen put me at ease for my treatment. Will definitely be returning and recommending.
Kim Brant
2. September, 2023.
Just have to say its the second time I've had treatment done by Steve. He's absolutely fantastic makes you feel comfortable and very professional. The treatment rooms are so perfectly clean and fresh and so so happy with my treatment. Definitely would not go anywhere else. Thankyou Cole aesthetics…..Kim
Jane Richards
17. August, 2023.
First visit with Steven for fillers on Monday Steven is amazing very professional , outstanding definitely will return makes you feel so at ease what a lovely person he is I do bruise quite bad hardly nothing so impressed clinic is spotless & beautiful inside , fabulous Thankyou again Steven
Cerianne Lawrence
11. August, 2023.
Patricia Edet
11. August, 2023.
It was very good experience to see things in my own eyes not on the website and the place was very clean